Best Colors to Wear for a Zoom Interview
First impressions are important!
Nowadays, companies might interview hundreds of candidates for one position and first impressions are more important than ever. One important, and often overlooked, aspect of an interviewee's first impression is the color of their interview clothes.  
The color of your interview attire sends a subconscious message to the interviewer about your personality.
The following tips can help you understand what colors to wear to an interview to make the best first impression.
Consider what your background will be during the video interview. If you'll have a white or light-colored wall behind you, a contrasting richer or darker color will help you stand out more.
Great colors: royal blues, greens, grays, browns/tans, and purples can all work well. Softer colors (such as a pale blue shirt) work well because they convey a bit of personality without being overwhelming. Blue is also one of my favorite colors as it convey feelings of calm, trust and confidence.
Solid vs patterns: Patterns can appear too busy on a video screen and may distract your interviewer from your great answers. Either choose a simple pattern or wear solid colors. 
Be creative: try a bold colorful scarf to show your sense of style. Red is a powerful color that conveys energy and passion.
The right colors can help convey your confidence, professionalism, and ability to fit into an organization's work environment.
Blue: shows that you're confident, trustworthy, and a team player.
Black: implies leadership and sophistication.
Gray: you're logical, and analytical.  Gray is a great color to wear as a suit or dress; it allows you to look powerful but is not quite as domineering as a black suit or dress.
Brown/tan: Brown is a neutral color that evokes feelings of calm. It is a great solid, neutral color for an interview.
White: makes people think you're safe and organized. Crisp and clean, white is a great color for shirts and blouses. The color conveys truth and simplicity and adds a bit of brightness without being too overwhelming.
If you are in any doubt about the company's culture, it is best to dress conservatively, with neutral, solid colors.
I think it is important to have something super clean and simple on top— you don't want to feel uncomfortable or distracted by what you are wearing. Like it or not, the colors you choose to wear to your interview will reflect who you are and the qualities you bring to the table. So, when you're left wondering what color to wear to an interview, it's best to play it safe. No, you don't have to wear the most boring outfit in the world. You can still express your personality, just do so more subtly with accessories such as a nice scarf, piece of jewelry or a tailored jacket with nice buttons.
Planning your outfit for an interview can improve your chances of getting the job. For an engineering interview, in particular, it's important to maintain a well-kept appearance to reassure your prospective employer that you're professional and suited for a career at their company and in the engineering field.
But figuring out how to dress can be a challenge. In many cases, engineers aren't going to work in traditional professional business attire environments. Formal suits just don't tend to be the standard, so you don't necessarily have to go that far for an interview.
Here are some tips to follow when deciding what to wear for an interview: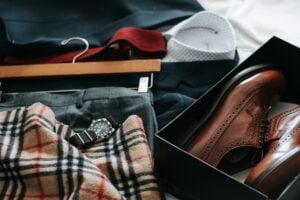 Research the company's work environment – This will help with deciding whether to wear business casual or business professional at your interview. At times, you can learn quite a bit about a company's dress code, even if you aren't an employee. By looking at the company's website and social media pages, you might be able to see pictures of employees' attires.
Choose elevated casual: It's a balance between traditional business attire and business casual, making it appropriate in all but the most formal environments. One of the universal examples of smart casual that works for both men and women is slacks or dress pants, a button-down shirt or collared shirt, and a coordinating blazer or sport coat. Pair that with dress shoes and a matching belt, and make sure any other accessories are somewhat subdued. When choosing your interview attire, opt for appropriate colors such as gray, black, tan and blue. Extend these colors to every item of your outfit. These colors help you look professional and keep you from wearing bright colors or wild patterns that can distract your interviewer and present a more casual look.
Keep it clean, simple and neat The night before your interview, determine whether or not your outfit needs ironing. Iron any items that appear wrinkled ahead of time.
Choose a simple and neat hairstyle. Men should also ensure neat and tidy facial hair. Keep your beard and mustache neatly trimmed, combed and styled.  If you wear makeup, opt for a simple look. Ensure it's low-key and natural overall.
Don't over accessorize: Keep it simple when it comes to jewelry. Limit rings to one or two and choose smaller, classic earrings. A silk scarf is a nice option for a professional look. If you do wear a tie, make sure it isn't too bold or distracting. A classic striped or solid tie will do the trick.
If you are in any doubt about the company's culture, it is best to dress conservatively, with neutral, solid colors. For more information on how to pick the right colors for a zoom interview, read the following article.
Taking the time to think through your attire helps you ensure a clean, tidy and professional appearance that gives the impression that you're prepared and put together. Keep in mind that your appearance essentially reflects you and your work ethic. Therefore, the more you prepare for your engineering interview, the greater chance you have at gaining employment in this industry
A final note
When it comes to video interviews, remember that the focus should be on your message,  skillset, and why you're the perfect fit for the job, not on what you're wearing.
What are the Best Colors to Wear for a Zoom Interview?