How to Dress for Zoom Interview Success
First impressions are important!
Zoom interviews during the pandemic became the norm.  If you have a video interview coming up, you need to plan for it. The clothes you wear don't have to be formal but should be both professional and video-friendly. Research the company website and photo events to learn about the culture of the company you're interviewing with to get an idea of what's appropriate to wear.
So how do you dress for video-interview success?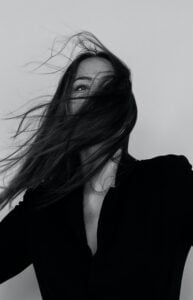 Choose your shirt wisely. A classic button-down shirt or blouse is a good option. Avoid bright colors and busy prints. The safest choice is to wear white, light blue, light gray, or another light color, providing the color doesn't disappear into your background—for example don't wear white if a white wall is in the background.
Dress up head to toe: It can be tempting to not put too much focus on what you're wearing off camera—for example, to wear sweats—but this is a mistake. Dress up head to toe to get into the right frame of mind and make the right impression.
Don't over accesorize: Keep it simple when it comes to jewelry. Limit rings to one or two and choose smaller, classic earrings. A silk scarf is a nice option for a professional look. If you do wear a tie, make sure it isn't too bold or distracting. A classic striped or solid tie will do the trick.
The right colors can help convey your confidence, professionalism, and ability to fit into an organization's work environment.
Blue: shows that you're confident, trustworthy, and a team player.
Black: implies leadership and sophistication.
Gray: you're logical, and analytical.  Gray is a great color to wear as a suit or dress; it allows you to look powerful but is not quite as domineering as a black suit or dress.
Brown/tan: Brown is a neutral color that evokes feelings of calm. It is a great solid, neutral color for an interview.
White: makes people think you're safe and organized. Crisp and clean, white is a great color for shirts and blouses. The color conveys truth and simplicity and adds a bit of brightness without being too overwhelming.
If you are in any doubt about the company's culture, it is best to dress conservatively, with neutral, solid colors. For more information on how to pick the right colors for a zoom interview, read the following article.
A final note
When it comes to video interviews, remember that the focus should be on your message,  skillset, and why you're the perfect fit for the job, not on what you're wearing.
How to Dress for Zoom Interview Success?