October 1: FAFSA is the gateway to $150 billion in financial aid to help you pay for higher education
What you need to understand about the most recent updates to the 22-23 FAFSA application form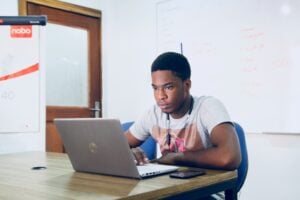 October 1st marks the start of the annual college financial aid application cycle as you start filling out the Free Application for Federal Student Aid (FAFSA) for your share of billions of dollars in federal student aid — including grants, scholarships, loans, and work-study — for the 2022-2023 school year. 
Some students don't apply because they mistakenly think the FAFSA is only for students with financial aid. That's not accurate, families should know that income is not the only factor used to determine the financial aid they can get. It also depends on the number of children in a family and how many are enrolled in college at the same time.
In terms of changes to the 22-23 FAFSA application form, there are two questions on the application that have traditionally been "disqualifiers" for financial aid: a question about drug convictions and a question about registering with the Selective Service.
In the past, students who received a drug conviction while they were also receiving financial aid have been disqualified for future financial assistance. And male students 18 or older who indicate on the FAFSA form that they haven't registered for the draft have also been disqualified from receiving financial aid.
These two questions will still be on the application but having a drug conviction and not registering for the draft will no longer impact students' ability to receive federal financial aid.
To complete the FAFSA, you will need:
Your Social Security number
An Alien Registration number (For non-U.S. citizens)
Federal income tax returns, W-2s, and other records of money earned (Thanks to the newly-updated IRS data retrieval tool, applicants may be able to automatically transfer their tax return information instead.)
Bank statements and records of any investments (if applicable)
Records of any untaxed income (if applicable)
FSA ID to sign electronically
If you are a dependent student, then you will also need most of the above information for your parent(s).
You should apply for the FAFSA as soon after October 1 as possible, because the earlier you apply, the more likely you are to qualify for aid that has a limited pool of money available.
Even if you apply after your school year is over, your financial aid can be applied retroactively to your educational costs for the year as long as you submit your application by June 30, 2022.
You should look beyond federal student aid as scholarships are a great way to pay for college, and unlike loans they don't need to be repaid. But winning scholarships takes time, dedication, intensive research, and hard work, especially on the essays.  It's deadline time for college applications, so it's important to start and learn how to apply for free money now at  at  IO Scholarships.com!
How to Write a Winning Scholarship Essay
Scholarship essays are very similar to your college application essays as the effort you put into writing your essay represents the chance to sell yourself to the scholarship committee. A scholarship essay helps the scholarship provider understand the real person behind the application. Genuine passion and enthusiasm for your topic will show through in your essay writing.  If you tell your unique story clearly, you just might find yourself receiving a congratulatory letter from the scholarship committee
Below are a few tips for writing winning scholarship essays
Understand the scholarship provider's overall mission and purpose.
Consider writing about an experience or interest that highlights your strong ties to the organization's purpose. Don't use the same essay for every college. For example Harvard College Honor Code holds honesty as the foundation of their community.  Unless there is a clear identification of mutual synergies, your scholarship essay will not be powerful enough.
Showcase your leadership and community impact
Based on my own experience, most scholarship committee judges evaluate scholarship application essays on the themes of leadership and community impact.  Below are some important elements to include in scholarship essays.
The impact of the leadership and degree of community involvement. What were the results? Did you manage to grow an organization from 10 to 100 members through your leadership? The scholarship committee is likely to be looking for applicants who made a long commitment to a community activity. It is most important to show that you recognize the real needs in your communities, and act to address these.
Why you got involved in the community experience. This is a very important aspect as it allows you to show your sincerity and demonstrates your passion and commitment to help diverse communities.
What obstacles did you face and how did you overcome them?
Scholarship committees would rather see how you overcame hardships and succeeded despite the obstacles in your path.  Inspirational stories of perseverance and resilience despite adversity make scholarship judges want to help you succeed
Check your Essay for spelling and grammar mistake
Scholarship committees do notice spelling and grammar mistakes so don't give them a reason to reject yours. Before you submit your application make sure to take the time to proofread your essay. Ask professors, mentors, family members, or trustworthy friends for feedback on your essay will result in a better final product.
About IOScholarships
IOScholarships was created by María Trochimezuk, who won scholarships to pay for her entire education. Her determination and hard work paid off as she won grants and scholarships from Stanford University and UCSB to continue her post-graduate education.
She learned first-hand how to find, apply for and win scholarships and became an advocate promoting scholarships nationwide. She has been featured in just about every major media outlet including Univision, Telemundo, Diversity in STEAM Magazine, Hispanic Network Magazine, Black EOE Journal and Professional Woman's Magazine.
In realizing how time consuming and complicated the process of finding scholarships for diverse students was, she created IOScholarship to make things much easier. IOScholarships will not only help underrepresented students find scholarships, but level the playing field so all students have every opportunity to achieve their educational goals.
Founder of IOScholarships Shares Her Tips on Getting Free College Money
What you need to understand about the most recent updates to the 22-23 FAFSA application form